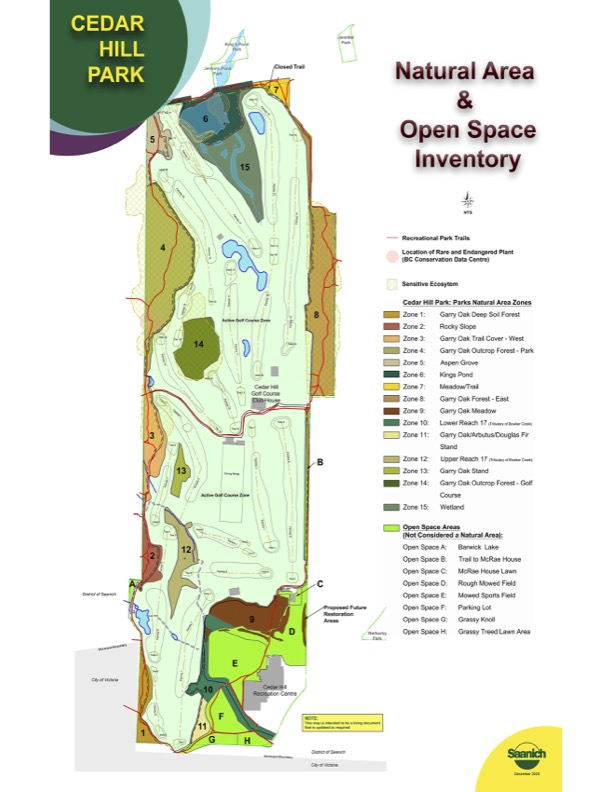 Greater Victoria has an abundance of beautiful and diverse public parks with rugged rocky outcrops, lakes, wetlands, creeks, and coastlines. They are home to numerous species of trees, shrubs, birds, insects, fish and mammals and a source of joy, recreation, and respite for us all.
Cedar Hill Park is one of the larger urban parks in Victoria set in beautiful rolling hills, it has a popular public golf course, excellent Recreation Center and a much loved 'Chip Trail' for all that love to walk and explore. Click here to see location of the Park on Google maps. Click here to see the CHP Natural Areas and Green Spaces map from the Cedar Hill Park Management Plan 2020   The Park is part of both the Colquitz and Bowker watersheds with areas of rare Garry Oak dry meadow, ponds, wetlands, a tributary of Bowker Creek and significant natural and green space areas. The Park has remnants of the pre-existing ecosystems that  supported the First Nations peoples for thousand of years and witnessed the impact of 150 years of colonial settlement, agriculture and development. A Brief History of CHP can be reviewed here.
If you would like to read more about the Straits Salish people who have inhabited the Saanich Peninsula for thousands of years, please see Dr. Nancy Turner's articles presented here.